Falastin: A Cookbook
Falastin is a love letter to Palestine, the land and its people; an evocative collection of over 110 unforgettable recipes and stories from the co-authors of Jerusalem and Ottolenghi: The Cookbook, and Ottolenghi SIMPLE. Travelling through Bethlehem, East Jerusalem, Nablus, Haifa, Akka, Nazareth, Galilee and the West Bank, Sami and Tara invite you to experience and enjoy unparalleled access to Sami's homeland. As each region has its own distinct identity and tale to tell, there are endless new flavour combinations to discover. The food is the perfect mix of traditional and contemporary, with recipes that have been handed down through the generations and reworked for a modern home kitchen, alongside dishes that have been inspired by Sami and Tara's collaborations with producers and farmers throughout Palestine. With stunning food and travel photography plus stories from unheard Palestinian voices, this innovative cookbook will transport you to this rich and complex land. So get ready to laden your table with the most delicious of foods - from abundant salads, soups and wholesome grains to fluffy breads, easy one-pot dishes and perfumed sweet treats - here are simple feasts to be shared and everyday meals to be enjoyed. These are stunning Palestinian-inspired dishes that you will want to cook, eat, fall in love with and make your own.
---
Liquid Gold by Roger Morgan-Grenville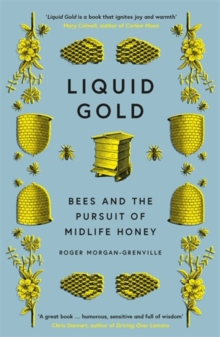 Beekeeping builds from lark to revelation in this carefully observed story of midlife friendship. Filled with humour and surprising insight, Liquid Gold is as richly rewarding as its namesake. Highly recommended.' - Thor Hanson, author of Buzz: The Nature and Necessity of Bees After a chance meeting in the pub, Roger Morgan-Grenville and his friend Duncan decide to take up beekeeping. Their enthusiasm matched only by their ignorance, they are pitched into an arcane world of unexpected challenges. Coping with many setbacks along the way, they manage to create a colony of beehives, finishing two years later with more honey than anyone knows what to do with. By standing back from their normal lives and working with the cycle of the seasons, they emerge with a new-found understanding of nature and a respect for the honeybee and the threats it faces. Wryly humorous and surprisingly moving, Liquid Gold is the story of a friendship between two unlikely men at very different stages of their lives. It is also an uplifting account of the author's own midlife journey: coming to terms with an empty nest, getting older, looking for something new.
---
Fast Asleep by Dr Michael Mosley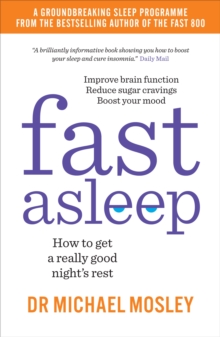 Groundbreaking sleep science from the bestselling author of The 5:2 Fast Diet and The Fast 800There is something you can do which is enjoyable, will improve your mood, cut your risk of depression, help you fight chronic disease, keep you slim and even improve your memory. Yes, getting a good night's sleep can give us all these things and more; so why is it that so many of us struggle to get the necessary 7-8 hours a night? In Fast Asleep, Dr Michael Mosley brings together the latest science to explain exactly what happens to us when we sleep and why it is so important that we get enough of it. Prone to insomnia, he has taken part in numerous sleep experiments and tested every sleep remedy going. He explains why so many of us struggle with sleep, what works and what doesn't and shares his own myth-busting programme to help you achieve a good night's rest. Along with fascinating case studies, 50 delicious, sleep-promoting recipes and menu plans by his wife Dr Clare Bailey, this book explores the science of dreaming, explains why gut health and meal times matter, and reveals tips and tricks to help you not just to sleep better but to reduce stress levels and feel happier and healthier in general.
---
Morality by Jonathan Sacks
We are living through a period of cultural climate change. We have outsourced morality to the markets on the one hand, and the state on the other. The markets have brought wealth to many, and the state has done much to contain the worst excesses of inequality, but neither is capable of bearing the moral weight of showing us how to live. This has had a profound impact on society and the way in which we interact with each other. Traditional values no longer hold, yet recent political swings show that modern ideals of tolerance have left many feeling rudderless and adrift. In this environment we see things fall apart in unexpected ways - toxic public discourse makes true societal progress almost unattainable, a more divisive society is fuelled by identity politics and extremism, and the rise of a victimhood mentality calls for 'safe spaces' but stifles debate. The influence of social media seems all-pervading and the breakdown of the family is only one result of the loss of social capital. Many fear what the future may hold. Delivering a devastatingly insightful critique of our modern condition, and assessing its roots and causes from the ancient Greeks through the Reformation and Enlightenment to the present day, Sacks argues that there is no liberty without morality, and no freedom without responsibility. If we care about the future of western civilisation, all of us must play our part in rebuilding our common moral foundation. Then we will discover afresh the life-transforming and counterintuitive truths that a nation is strong when it cares for the weak, and rich when it cares for the poor. Here is an inspiring vision of a world in which we can all find our place, and face the future without fear.
---
The Nanny State Made Me by Stuart Maconie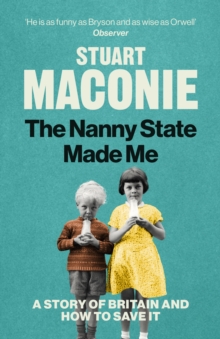 It was the spirit of our finest hour, the backbone of our post-war greatness, and it promoted some of the boldest and most brilliant schemes this isle has ever produced: it was the Welfare State, and it made you and I. But now it's under threat, and we need to save it. In this timely and provocative book, Stuart Maconie tells Britain's Welfare State story through his own history of growing up as a northern working class boy. What was so bad about properly funded hospitals, decent working conditions and affordable houses? And what was so wrong about student grants, free eye tests and council houses? And where did it all go so wrong? Stuart looks toward Britain's future, making an emotional case for believing in more than profit and loss; and championing a just, fairer society.
---
Our House is on Fire by Malena and Beata Ernman & Svante and Great Thunberg
This is the story of a family led to confront a crisis they had never foreseen. Aged eleven, their eldest daughter has stopped eating and speaking. Alongside diagnoses of autism and selective mutism, her parents slowly become aware of another source for her distress: her imperilled future on a rapidly heating planet. Steered by her determination to understand the truth, the family begins to see the deep connections between their own and the planet's suffering. Against forces that try to silence them, disparaging them for being different, they discover ways to strengthen, heal, and act in the world. And then one day, fifteen-year-old Greta decides to go on strike.
---
The Little Book of Planting Trees
From the author of The Wisdom of Trees, an informative and practical guide to tree planting: including guidance on which trees to plant and where; how to plant, propagate and care for your trees; advice on the suitability and virtues of particular native trees (from oak to alder and from beech to blackthorn); amplified by details of how trees grow in nature and the stories of some famous tree planters.
A glossary of websites, nurseries, conservation and other organisations completes the volume.
---
Through the Leopard's Gaze by Njambi McGrath
Beaten to pulp and left for dead, 13 year old Njambi found the courage to escape, fearing her assailant would return to finish her. She walked all night risking wild animals, robbers and murderers in the Kenyan countryside, before being picked up by two shabbily dressed men.
She spent her life burying memories of that fateful day and night, ending up in London with a British husband and children.
She had moved on, or so she thought until one day a simple unassuming wedding invitation card arrived in her mailbox causing her house of matchsticks to come crashing down.
---
The Five by Hallie Rubenhold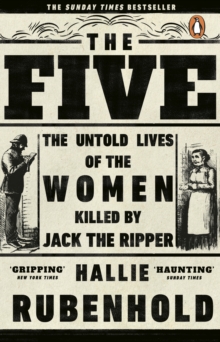 Polly, Annie, Elizabeth, Catherine and Mary-Jane are famous for the same thing, though they never met.
They came from Fleet Street, Knightsbridge, Wolverhampton, Sweden and Wales.
They wrote ballads, ran coffee houses, lived on country estates, they breathed ink-dust from printing presses and escaped people-traffickers.
What they had in common was the year of their murders: 1888. Their murderer was never identified, but the name created for him by the press has become far more famous than any of these five women.
Now, in this devastating narrative of five lives, historian Hallie Rubenhold finally sets the record straight, and gives these women back their stories.
---
Dresden by Sinclair McKay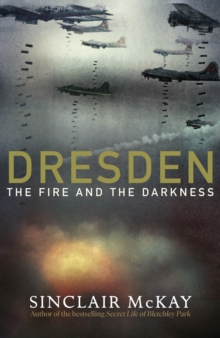 In February 1945 the Allies obliterated Dresden, the 'Florence of the Elbe'. Explosive bombs weighing over 1,000 lbs fell every seven and a half seconds and an estimated 25,000 people were killed. Was Dresden a legitimate military target or was the bombing a last act of atavistic mass murder in a war already won?From the history of the city to the attack itself, conveyed in a minute-by-minute account from the first of the flares to the flames reaching almost a mile high - the wind so searingly hot that the lungs of those in its path were instantly scorched - through the eerie period of reconstruction, bestselling author Sinclair McKay creates a vast canvas and brings it alive with touching human detail. Along the way we encounter, for example, a Jewish woman who thought the English bombs had been sent from heaven, novelist Kurt Vonnegut who wrote that the smouldering landscape was like walking on the surface of the moon, and 15-year-old Winfried Bielss, who, having spent the evening ushering refugees, wanted to get home to his stamp collection. He was not to know that there was not enough time. Impeccably researched and deeply moving, McKay uses never-before-seen sources to relate the untold stories of civilians and vividly conveys the texture of life in a decimated city. Dresden is invoked as a byword for the illimitable cruelties of war, but with the ever-lengthening distance of time, it is now possible to approach this subject with a much clearer gaze, less occluded with the weight of prejudice in either direction, and with a keener interest in the sorts of lives that ordinary people lived and lost, or tried to rebuild. From general and individual morality in war to the raw, primal instinct for survival, through the seemingly unstoppable gravity of mass destruction and the manipulation of memory, this is a master historian at work.
---
These Silent Mansions by Jean Sprackland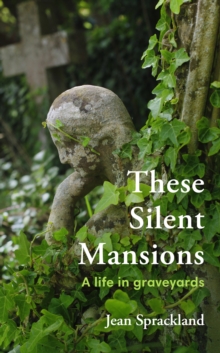 Graveyards are oases: places of escape, of peace and reflection. Each is a garden or nature reserve, but also a site of commemoration, where the past is close enough to touch: a liminal place, at the border of the living world. Jean Sprackland's prize-winning book, Strands, brought to life the histories of objects found on a beach. These Silent Mansions is also an uncovering of individual stories: vivid, touching and intimately told. Sprackland travels back through her own life, revisiting graveyards in the ordinary towns and cities she has called home, seeking out others who lived, died and are remembered or forgotten there. With her poet's eye, she makes chance discoveries among the stones and inscriptions: a notorious smuggler tucked up in a sleepy churchyard; ancient coins unearthed on a secret burial ground; a slow-worm basking in the sun. These Silent Mansions is an elegant, exhilarating meditation on the relationship between the living and the dead, the nature of time and loss, and how - in this restless, accelerated world - we can connect the here with the elsewhere, the present with the past.
---
Black Wave by Kim Ghattas
A timely and unprecedented examination of how the modern Middle East unravelled, and why it started with the pivotal year of 1979'What happened to us?'For decades, the question has haunted the Arab and Muslim world, heard across Iran and Syria, Saudi Arabia and Pakistan, and in the author's home country of Lebanon. Was it always so? When did the extremism, intolerance and bloodletting of today displace the region's cultural promise and diversity? In Black Wave, award-winning journalist and author Kim Ghattas argues that the turning point in the modern history of the Middle East can be located in the toxic confluence of three major events in 1979: the Iranian revolution; the siege of the Holy Mosque in Mecca; and the Soviet invasion of Afghanistan. Before this year, Saudi Arabia and Iran had been working allies and twin pillars of US strategy in the region - but the radical legacy of these events made them mortal enemies, unleashing a process that transformed culture, society, religion and geopolitics across the region for decades to come. Drawing on a sweeping cast of characters across seven countries over forty years, Ghattas demonstrates how this rivalry for religious and cultural supremacy has fed intolerance, suppressed cultural expression, encouraged sectarian violence, birthed groups like Hezbollah and ISIS and, ultimately, upended the lives of millions. At once bold and intimate, Black Wave is a remarkable and engrossing story of the Middle East as it has never been told before.
---
Dear Life by Rachel Clarke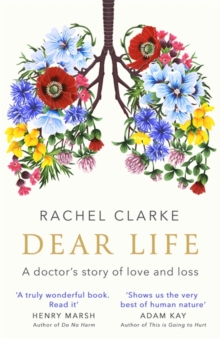 From the Sunday Times bestselling author of Your Life in My Hands comes this vibrant, tender and deeply personal memoir that finds light and love in the darkest of places. As a specialist in palliative medicine, Dr Rachel Clarke chooses to inhabit a place many people would find too tragic to contemplate. Every day she tries to bring care and comfort to those reaching the end of their lives and to help make dying more bearable. Rachel's training was put to the test in 2017 when her beloved GP father was diagnosed with terminal cancer. She learned that nothing - even the best palliative care - can sugar-coat the pain of losing someone you love. And yet, she argues, in a hospice there is more of what matters in life - more love, more strength, more kindness, more joy, more tenderness, more grace, more compassion - than you could ever imagine. For if there is a difference between people who know they are dying and the rest of us, it is simply this: that the terminally ill know their time is running out, while we live as though we have all the time in the world. Dear Life is a book about the vital importance of human connection, by the doctor we would all want by our sides at a time of crisis. It is a love letter - to a father, to a profession, to life itself.
---
Winners Take All by Anand Giridharadas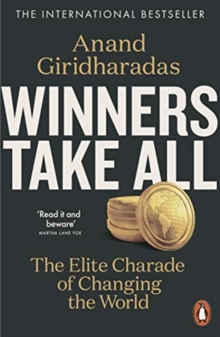 What explains the spreading backlash against the global elite? In this revelatory investigation, Anand Giridharadas takes us into the inner sanctums of a new gilded age, showing how the elite follow a 'win-win' logic, fighting for equality and justice any way they can - except ways that threaten their position at the top. But why should our gravest problems be solved by consultancies, technology companies and corporate-sponsored charities instead of public institutions and elected officials?
Why should we rely on scraps from the winners?
Trenchant and gripping, this is an indispensable guide and call to action for elites and citizens alike.
---
Rootbound by Alice Vincent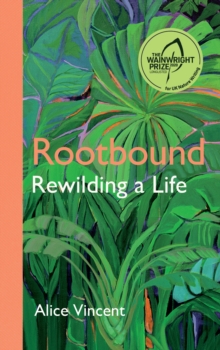 When she was a girl, Alice Vincent loved her grandfather's garden - the freedom, the calm, the beauty of it.
Twenty years later, living in a tiny flat in South London, that childhood in the garden feels like a dream.
When she suddenly finds herself uprooted, heartbroken, living out of a suitcase and yearning for the comfort of home, Alice starts to plant seeds.
She nurtures pot plants and vines on windowsills and draining boards, filling her new space with green, and with each unfurling petal and budding leaf, she begins to come back to life.
Mixing memoir, botanical history and biography, Rootbound examines how bringing a little bit of the outside in can help us find our feet in a world spinning far too fast.
---
Last Stop Auschwitz: My Story of Survival by Eddy de Wind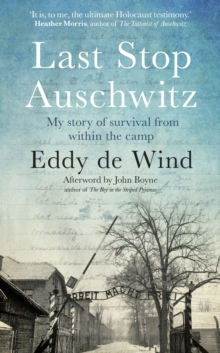 Eddy de Wind, a Dutch doctor and psychiatrist, was shipped to Auschwitz with his wife Friedel, whom he had met and married at the Westerbork labour camp in the Netherlands. At Auschwitz, they made it through the brutal selection process and were put to work. Each day, each hour became a battle for survival. For Eddy, this meant negotiating with the volatile guards in the medical barracks. For Friedel, it meant avoiding the Nazis' barbaric medical experiments. As the end of the war approached and the Russian Army drew closer, the last Nazis fled, taking many prisoners with them, including Friedel. Eddy hid under a pile of old clothes and stayed behind. Finding a notebook and pencil, he began to write with furious energy about his experiences. Last Stop Auschwitz is an extraordinary account of life as a prisoner, a near real-time record of the daily struggle to survive but also of the flickering moments of joy Eddy and Friedel found in each other - passing notes through the fence, sometimes stealing a brief embrace. Documenting the best and the worst of humanity, it is a unique and timeless story that reminds us of what we as humans are capable of, but that there is hope, even in Hell. Thought to be the only complete book written within Auschwitz itself, it will linger with you long after the final page has been turned.
---
Eat Green by Melissa Hemsley
Eat Green is a cookbook for everyone who wants to enjoy tasty food which is good for you, simple to make, affordable to cook every day and to reduce their impact on the planet. Bestselling author and home cook, Melissa Hemsley gives you over 100 recipes that focus on UK-grown, easy-to-buy ingredients, cutting down on food waste and putting flavour first. These veg-packed and veg-centric recipes celebrate the very best of the seasons with simple swaps meaning that meat and fish can be added in or taken away, so everyone can enjoy a delicious meal, whether they are an omnivore, vegetarian or something in between. Melissa's down-to-earth approach to joyful eating encourages us to cook healthy food from scratch while being mindful of life's pressures and time constraints and Eat Green includes plenty of:- easy swaps to use up food you have to hand and reinvent your leftovers- batch cooking advice and meals to stock up your freezer- quick 30 minute midweek dinners and one pot meals- make-ahead packed lunches for work or weekend trips - family-friendly dishes and healthy spins on comfort food favourites- plus an A-Z of full of creative ideas for using up odds and ends that you might usually throw awayRecognising that zero waste is not yet achievable for many of us, Eat Green is a helping hand towards the first steps to a more sustainable way of eating. But more importantly it celebrates the pleasure of really good food anyone can cook and everyone can savour.
---
Feel Better in 5 by Dr Rangan Chattergee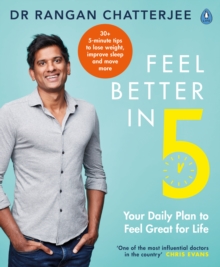 Trying to be healthy can be overwhelming - what if all it took to make a real difference was 5 minutes of your day? Ditch the pills, beat the sleepless nights and banish the yo-yo diets. In just a few minutes, Feel Better in 5 will kick-start your health and happiness by showing you how to incorporate Dr Chatterjee's simple daily plan into your current routine. Top tips include: - Gut boosting foods that lift the brain fog- Creative activities to feel more energised- Strength workouts you can do anywhere Drawing on Dr Chatterjee's twenty years of experience and real-life case studies from his GP practice, this easy-to-follow book shows how small changes can make a big difference. Feel Better in 5 is the only lifestyle plan you need. Feeling healthier has never been easier.
---
War Doctor by David Nott
For more than twenty-five years, David Nott has taken unpaid leave from his job as a general and vascular surgeon with the NHS to volunteer in some of the world's most dangerous war zones. From Sarajevo under siege in 1993, to clandestine hospitals in rebel-held eastern Aleppo, he has carried out life-saving operations and field surgery in the most challenging conditions, and with none of the resources of a major London teaching hospital. The conflicts he has worked in form a chronology of twenty-first-century combat: Afghanistan, Sierra Leone, Liberia, Darfur, Congo, Iraq, Yemen, Libya, Gaza and Syria. But he has also volunteered in areas blighted by natural disasters, such as the earthquakes in Haiti and Nepal. Driven both by compassion and passion, the desire to help others and the thrill of extreme personal danger, he is now widely acknowledged to be the most experienced trauma surgeon in the world. But as time went on, David Nott began to realize that flying into a catastrophe - whether war or natural disaster - was not enough. Doctors on the ground needed to learn how to treat the appalling injuries that war inflicts upon its victims. Since 2015, the foundation he set up with his wife, Elly, has disseminated the knowledge he has gained, training other doctors in the art of saving lives threatened by bombs and bullets. War Doctor is his extraordinary story.
---
The Fifth Risk by Michael Lewis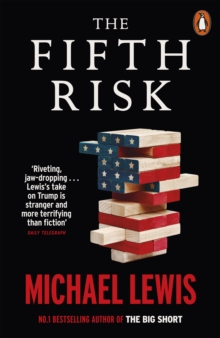 The morning after Trump was elected president, the people who ran the US Department of Energy - an agency that deals with some of the most powerful risks facing humanity - waited to welcome the incoming administration's transition team. Nobody appeared. Across the US government, the same thing happened: nothing. People don't notice when stuff goes right. That is the stuff government does. It manages everything that underpins our lives from funding free school meals, to policing rogue nuclear activity, to predicting extreme weather events. It steps in where private investment fears to tread, innovates and creates knowledge, assesses extreme long-term risk. And now, government is under attack. By its own leaders. In The Fifth Risk, Michael Lewis reveals the combustible cocktail of wilful ignorance and venality that is fuelling the destruction of a country's fabric. All of this, Lewis shows, exposes America and the world to the biggest risk of all. It is what you never learned that might have saved you.
---
Written in History: Letters That Changed the World by Simon Sebag Montefiore
A book which celebrates the great letters of world history, creative culture and personal life. Acclaimed historian Simon Sebag Montefiore selects over one hundred letters from ancient times to the twenty-first century: some are noble and inspiring, some despicable and unsettling; some are exquisite works of literature, others brutal, coarse and frankly outrageous; many are erotic, others heartbreaking.
The writers vary from Elizabeth I, Rameses the Great and Leonard Cohen to Emmeline Pankhurst, Mandela, Stalin, Michelangelo, Suleiman the Magnificent and unknown people in extraordinary circumstances - from love letters to calls for liberation, declarations of war to reflections on death. In the colourful, accessible style of a master storyteller, Montefiore shows why these letters are essential reading: how they enlighten our past, enrich the way we live now - and illuminate tomorrow.
---
Lady in Waiting by Anne Glenconner
Anne Glenconner has written a remarkable memoir - containing, at last, a genuine portrait of Princess Margaret from one who knew her well. But this book is poignant too, and through the pages shine her courage and good-humoured acceptance of her demons and tragedies.'HUGO VICKERS~The remarkable life of Lady in Waiting to Princess Margaret who was also a Maid of Honour at the Queen's Coronation - and is a character in The Crown this autumn. Anne Glenconner reveals the real events behind The Crown as well as her own life of drama, tragedy and courage, with the wonderful wit and extraordinary resilience which define her. Anne Glenconner has been close to the Royal Family since childhood. Eldest child of the 5th Earl of Leicester, she was, as a daughter, described as 'the greatest disappointment' by her family as she was unable to inherit. Her childhood home Holkham Hall is one of the grandest estates in England. Bordering Sandringham the Princesses Elizabeth and Margaret were frequent playmates. From Maid of Honour at the Queen's Coronation to Lady in Waiting to Princess Margaret, Lady Glenconner is a unique witness to royal history, as well as an extraordinary survivor of a generation of aristocratic women trapped without inheritance and burdened with social expectations. She married the charismatic but highly volatile Colin Tennant, Lord Glenconner, who became the owner of Mustique. Together they turned the island into a paradise for the rich and famous, including Mick Jagger and David Bowie, and it became a favourite retreat for Princess Margaret. But beneath the glitz and glamour there has also lurked tragedy. On Lord Glenconner's death in 2010 he left his fortune to a former employee. And of their five children, two grown-up sons died, while a third son had to be nursed back from a coma by Anne, after having suffered a near fatal accident. Anne Glenconner writes with extraordinary wit, generosity and courage and she exposes what life was like in her gilded cage, revealing the role of her great friendship with Princess Margaret, and the freedom she can now finally enjoy in later life. She will appear as a character in the new series of The Crown this autumn.
---
Cruickshank's London by Dan Cruickshank
London. City of ancient churches and bustling markets, palatial townhouses and modest terraces, two millennia of expansion, commerce and street life. This is its story. In Cruickshank's London, Britain's favourite architectural historian offers a tour through thirteen districts that made London into London. From the mysterious Anglo-Saxon origins of Hampstead Heath, via Christopher Wren's magisterial City churches, to the industrial bustle of Victorian Bermondsey, each of his walks explores a crucial site in our capital's history - and reveals how it forged the modern capital. Jumping between East Ham in the east and Kew in the west, Dan Cruickshank explores both world-famous buildings (the Tower of London and St Pancras Station) and oft-overlooked local landmarks (Dagenham Civic Centre and Kensal Green Cemetery). His tales reveal not only the most important moments in London's history, but also the forgotten characters who witnessed them: the Huguenot weavers who transformed Spitalfields into a vibrant enclave of Georgian London, the visionary architects behind the likes of Somerset House and the Houses of Parliament, and the streetwalkers who once thronged London's great sexual highway. Along the way, he peppers the book with beautiful photographs, historical sketches and handy maps, so you can immediately follow in his footsteps. Above all, Cruickshank calls on you to explore London. Every street in the city contains a story. This book invites you to hear them.
---
Morning Glory on the Vine by Joni Mitchell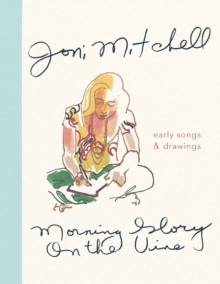 In 1971, as her groundbreaking album Blue emerged as a singular commercial and critical success around the world, Joni Mitchell puzzled over what gift to give her friends that Christmas.
The result was a handmade book, with only one hundred copies produced, filled with Joni's hand-written lyrics and reproductions of many of her stunning drawings - portraits, abstracts, random concertgoers, and more.
Each was given to a friend and, until now, the edition has remained private.
Today, with Morning Glory on the Vine, Joni's long-ago personal Christmas present is a present to us all.
---
She Speaks by Yvette Cooper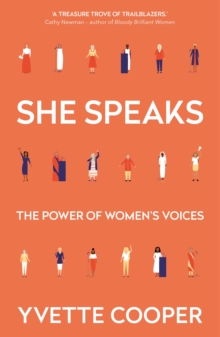 Looking at the greatest speeches of all time, you'd be forgiven for thinking that Elizabeth I and Boudica were about the only women to have dipped a toe into the pool of public oratory. But the truth is very different - countless brave and bold women have used their voices to inspire change, transform lives and radically alter history. In this timely and personal anthology, Yvette Cooper MP tells the story of 30 inspirational speeches given by women. From Boudica to Margaret Thatcher and from Malala to gun-control activist Emma Gonzalez, each speech will be reproduced in full and introduced by Yvette. This is not only a much-needed celebration of women's speeches throughout history, but also proof that powerful and persuasive oratory can be decidedly female.
---
Between the Stops by Sandi Toksvig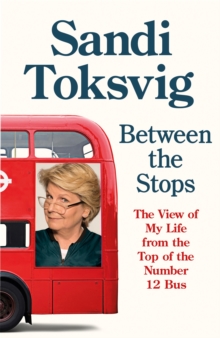 This long-awaited memoir from one of Britain's best-loved celebrities - a writer, broadcaster, activist, comic on stage, screen and radio for nearly forty years, presenter of QI and Great British Bake Off star - is an autobiography with a difference: as only Sandi Toksvig can tell it. 'Between the Stops is a sort of a memoir, my sort. It's about a bus trip really, because it's my view from the Number 12 bus (mostly top deck, the seat at the front on the right), a double-decker that plies its way from Dulwich, in South East London, where I was living, to where I sometimes work - at the BBC, in the heart of the capital. It's not a sensible way to write a memoir at all, probably, but it's the way things pop into your head as you travel, so it's my way'. From London facts including where to find the blue plaque for Una Marson, 'The first black woman programme maker at the BBC', to discovering the best Spanish coffee under Southwark's railway arches; from a brief history of lady gangsters at Elephant and Castle to memories of climbing Mount Sinai and, at the request of a fellow traveller, reading aloud the Ten Commandments; from the story behind Pissarro's painting of Dulwich Station to performing in Footlights with Emma Thompson; from painful memoires of being sent to Coventry while at a British boarding school to thinking about how Wombells Travelling Circus of 1864 haunts Peckham Rye;from anecdotes about meeting Prince Charles, Monica Lewinsky and Grayson Perry to Bake-Off antics; from stories of a real and lasting friendship with John McCarthy to the importance of family and the daunting navigation of the Zambezi River in her father's canoe, this Sandi Toksvig-style memoir is, as one would expect and hope, packed full of surprises. A funny and moving trip through memories, musings and the many delights on the Number 12 route, Between the Stops is also an inspiration to us all to get off our phones, look up and to talk to each other because as Sandi says: 'some of the greatest trips lie on our own doorstep'.
---
A Ladybird Book about Donald Trump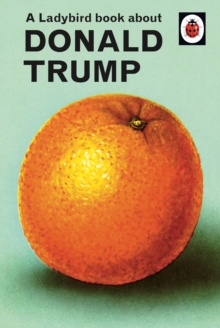 A charming introduction to the President of the United States, the important jobs he has to do, and the friends he's made all over the world. 'Anyone can grow up to become the President. Or they can become President first and think about growing up later'
This delightful book is the latest in the series of Ladybird books which have been specially planned to help grown-ups with the world about them - something the President himself could do with.
The large clear script, the careful choice of words, the frequent repetition and the thoughtful matching of text with pictures all enable grown-ups to think they have taught themselves to cope. Featuring original Ladybird artwork alongside brilliantly funny, brand new text.
---
The Body by Bill Bryson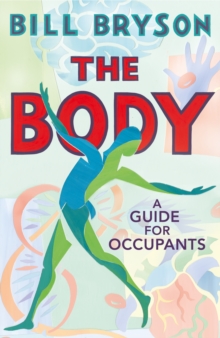 'We spend our whole lives in one body and yet most of us have practically no idea how it works and what goes on inside it. The idea of the book is simply to try to understand the extraordinary contraption that is us.'Bill Bryson sets off to explore the human body, how it functions and its remarkable ability to heal itself. Full of extraordinary facts and astonishing stories The Body: A Guide for Occupants is a brilliant, often very funny attempt to understand the miracle of our physical and neurological make up. A wonderful successor to A Short History of Nearly Everything, this new book is an instant classic. It will have you marvelling at the form you occupy, and celebrating the genius of your existence, time and time again. 'What I learned is that we are infinitely more complex and wondrous, and often more mysterious, than I had ever suspected. There really is no story more amazing than the story of us.' Bill Bryson
---
How to Save the World for Free by Natalie Fee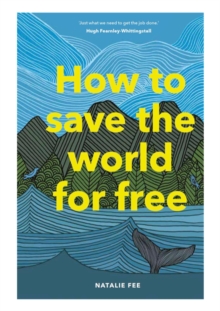 There is no greater aspiration than saving the world.
Natalie Fee's upbeat and engaging book is a life-altering guide to making those changes that will contribute to helping our planet.
Covering all key areas of our lives, from food and leisure to travel and sex, Natalie will galvanise you to think and live differently.
You will feel better, live better and ultimately breathe better in the knowledge that every small change contributes towards saving our world.
---
Twas the Nightshift Before Christmas by Adam Kay
A surgical-stocking-filler from the author of record-breaking million copy bestseller This Is Going To Hurt.
Christmas is coming, the goose is getting fat . . . but 1.4 million NHS staff are heading off to work. In this perfect present for anyone who has ever set foot in a hospital, Adam Kay delves back into his diaries for a hilarious, horrifying and sometimes heartbreaking peek behind the blue curtain at Christmastime.
Twas the Nightshift Before Christmas is a love letter to all those who spend their festive season on the front line, removing babies and baubles from the various places they get stuck, at the most wonderful time of the year.
---
Big Sister, Little Sister, Red Sister by Jung Chang
They were the most famous sisters in China. As the country battled through a hundred years of wars, revolutions and seismic transformations, the three Soong sisters from Shanghai were at the centre of power, and each of them left an indelible mark on history. Red Sister, Ching-ling, married the `Father of China', Sun Yat-sen, and rose to be Mao's vice-chair. Little Sister, May-ling, became Madame Chiang Kai-shek, first lady of pre-Communist Nationalist China and a major political figure in her own right. Big Sister, Ei-ling, became Chiang's unofficial main adviser - and made herself one of China's richest women. All three sisters enjoyed tremendous privilege and glory, but also endured constant mortal danger. They showed great courage and experienced passionate love, as well as despair and heartbreak. They remained close emotionally, even when they embraced opposing political camps and Ching-ling dedicated herself to destroying her two sisters' worlds. Big Sister, Little Sister, Red Sister is a gripping story of love, war, intrigue, bravery, glamour and betrayal, which takes us on a sweeping journey from Canton to Hawaii to New York, from exiles' quarters in Japan and Berlin to secret meeting rooms in Moscow, and from the compounds of the Communist elite in Beijing to the corridors of power in democratic Taiwan. In a group biography that is by turns intimate and epic, Jung Chang reveals the lives of three extraordinary women who helped shape twentieth-century China.
---
A Short History of London by Simon Jenkins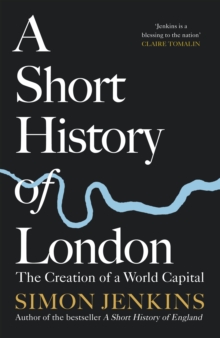 LONDON: a settlement founded by the Romans, occupied by the Saxons, conquered by the Danes and ruled by the Normans. This unremarkable place - not even included in the Domesday Book - became a medieval maze of alleys and courtyards, later to be chequered with grand estates of Georgian splendour. It swelled with industry and became the centre of the largest empire in history. And rising from the rubble of the Blitz, it is now one of the greatest cities in the world. From the prehistoric occupants of the Thames Valley to the preoccupied commuters of today, Simon Jenkins brings together the key events, individuals and trends in London's history to create a matchless portrait of the capital. He masterfully explains the battles behind the way London was conceived and built - and especially the perennial conflict between money and power. Based in part on his experiences of and involvement in the events that shaped the post-war city, and with his trademark colour and authority, he shows above all how London has taken shape over more than two thousand years. Fascinating for locals and visitors alike, this is narrative history at its finest, from the most ardent protector of our heritage.
---
Bosch! How to Live Vegan by Henry Firth & Ian Theasby
BOSH!, the pioneers of simple, easy and delicious plant-based cooking, are here to make a sustainable and ethical lifestyle accessible to everyone. BOSH! How to Live Vegan will help you make a few positive changes that will have a huge impact on the world around you. It covers all aspects of vegan living, everything from food to toiletries to travel. Should you be eating avocados? Is it still ok to wear an old leather belt? What do you tell your friends when they offer you a glass of non-vegan wine? Henry and Ian will answer these questions and more in this fully-comprehensive guide to the how and the why of a plant-based lifestyle. Henry and Ian answer all the questions and more, with easy tips and simple hacks to help you live a more sustainable life. Whether you're already vegan or just about to start on your vegan journey, this is all the inspiration you need.
---
The Poetry Pharmacy Returns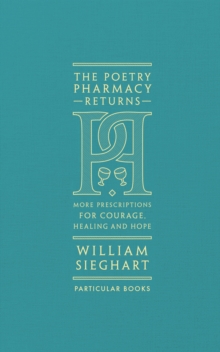 The Poetry Pharmacy is one of the best-selling (and most giftable) poetry anthologies of recent decades. Now, after huge demand for more prescriptions from readers and 'patients' alike, William Sieghart is back. This time, tried-and-true classics from his in-person pharmacies are joined by readers' favourite poems and the new conditions most requested by the public - all accompanied by his trademark meditations (warm, witty and understanding, with just a twist of the challenging) on the 58 spiritual ailments he seeks to cure. From ageing bodies and existential crises to long-distance relationships and embracing your slovenliness, The Poetry Pharmacy Returns caters to all-new conditions while drilling further down into the universals: this time, the challenges of family life, and of living as a person among others, receive a much closer look. Perfect for the treasured friends, barely tolerated siblings, beloved aunts and revered grandparents in your life.
---
Art London by Hettie Judah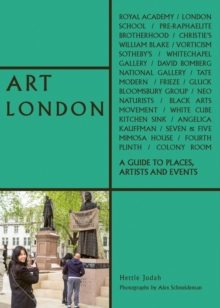 Prodigies, revolutionaries, defiers of the patriarchy; drunks, rebels and impassioned immigrants; queer pioneers, paint-spattered punks and proto-feminists: there have always been artists in London. Some were celebrated in their lifetime, others were out-of-step with the spirit of their age: too radical, too subversive, too modest, too female, too foreign. Art London is more than a guidebook. It will accompany you on a journey through this great city, telling stories, uncovering histories, sharing insights into those who have made, collected and influenced art past and present. Moving neighbourhood by neighbourhood, Art London travels the streets with you, revealing art in museums, galleries and beyond, from palace to pub to studio. Anish Kapoor, Grayson Perry, Mona Hatoum, John Akomfra, Rasheed Araeen, Sunil Gupta, Tracey Emin and Yinka Shonibare were among the artists who agreed to have their portraits taken for this book, while at work in their studios. Alex Schneiderman's exclusive photographs reveal the human element behind contemporary art, while pictures of streetside galleries place London's art scene within an ever-expanding cosmopolitan world. Fascinating, entertaining, full of anecdote and insights, Art London reflects the city itself: energetic, diverse, resilient, occasionally outrageous, and never short of fresh ideas.
---
Talking to Strangers by Malcolm Gladwell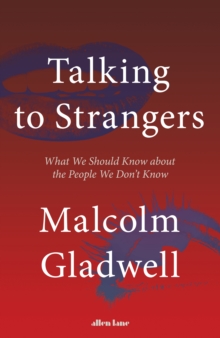 The highly anticipated new book from Malcolm Gladwell, No.1 international bestselling author of The Tipping Point, Blink, Outliers, What the Dog Saw and David and Goliath The routine traffic stop that ends in tragedy. The spy who spends years undetected at the highest levels of the Pentagon. The false conviction of Amanda Knox. Why do we so often get other people wrong? Why is it so hard to detect a lie, read a face or judge a stranger's motives?Through a series of encounters and misunderstandings - from history, psychology and infamous legal cases - Malcolm Gladwell takes us on an intellectual adventure into the darker side of human nature, where strangers are never simple and misreading them can have disastrous consequences. No one challenges our shared assumptions like Malcolm Gladwell. Here he uses stories of deceit and fatal errors to cast doubt on our strategies for dealing with the unknown, inviting us to rethink our thinking in these troubled times.
---
My Name is Why by Lemn Sissay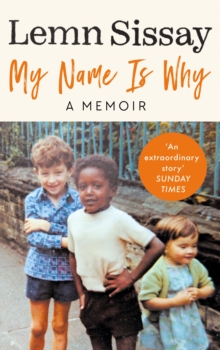 At the age of seventeen, after a childhood in a foster family followed by six years in care homes, Norman Greenwood was given his birth certificate. He learned that his real name was not Norman. It was Lemn Sissay. He was British and Ethiopian. And he learned that his mother had been pleading for his safe return to her since his birth. This is Lemn's story; a story of neglect and determination, misfortune and hope, cruelty and triumph. Sissay reflects on a childhood in care, self-expression and Britishness, and in doing so explores the institutional care system, race, family and the meaning of home. Written with all the lyricism and power you would expect from one of the nation's best-loved poets, this moving, frank and timely memoir is the result of a life spent asking questions, and a celebration of the redemptive power of creativity.
---
No One is too Small to make a Difference by Greta Thunberg
The history-making, ground-breaking speeches of Greta Thunberg, the young activist who has become the voice of a generation'Everything needs to change. And it has to start today' In August 2018 a fifteen-year-old Swedish girl, Greta Thunberg, decided not to go to school one day. Her actions ended up sparking a global movement for action against the climate crisis, inspiring millions of pupils to go on strike for our planet, forcing governments to listen, and earning her a Nobel Peace Prize nomination. This book brings you Greta in her own words, for the first time. Collecting her speeches that have made history across Europe, from the UN to mass street protests, No One Is Too Small to Make A Difference is a rallying cry for why we must all wake up and fight to protect the living planet, no matter how powerless we feel. Our future depends upon it.
---
Wilding by Isabella Tree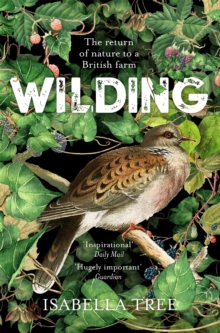 In Wilding, Isabella Tree tells the story of the `Knepp experiment', a pioneering rewilding project in West Sussex, using free-roaming grazing animals to create new habitats for wildlife. Part gripping memoir, part fascinating account of the ecology of our countryside, Wilding is, above all, an inspiring story of hope. Forced to accept that intensive farming on the heavy clay of their land at Knepp was economically unsustainable, Isabella Tree and her husband Charlie Burrell made a spectacular leap of faith: they decided to step back and let nature take over. Thanks to the introduction of free-roaming cattle, ponies, pigs and deer - proxies of the large animals that once roamed Britain - the 3,500 acre project has seen extraordinary increases in wildlife numbers and diversity in little over a decade. Extremely rare species, including turtle doves, nightingales, peregrine falcons, lesser spotted woodpeckers and purple emperor butterflies, are now breeding at Knepp, and populations of other species are rocketing. The Burrells' degraded agricultural land has become a functioning ecosystem again, heaving with life - all by itself. Personal and inspirational, Wilding is an astonishing account of the beauty and strength of nature, when it is given as much freedom as possible.
---
The Salt Path by Raynor Winn
Just days after Raynor learns that Moth, her husband of 32 years, is terminally ill, their home is taken away and they lose their livelihood. With nothing left and little time, they make the brave and impulsive decision to walk the 630 miles of the sea-swept South West Coast Path, from Somerset to Dorset, via Devon and Cornwall. Carrying only the essentials for survival on their backs, they live wild in the ancient, weathered landscape of cliffs, sea and sky. Yet through every step, every encounter and every test along the way, their walk becomes a remarkable journey.
The Salt Path is an honest and life-affirming true story of coming to terms with grief and the healing power of the natural world.
Ultimately, it is a portrayal of home, and how it can be lost, rebuilt and rediscovered in the most unexpected ways.
---
Educated by Tara Westover
Tara Westover and her family grew up preparing for the End of Days but, according to the government, she didn't exist.
She hadn't been registered for a birth certificate.
She had no school records because she'd never set foot in a classroom, and no medical records because her father didn't believe in hospitals. As she grew older, her father became more radical and her brother more violent.
At sixteen, Tara knew she had to leave home. In doing so she discovered both the transformative power of education, and the price she had to pay for it.
---
This is Going to Hurt by Adam Kay
Welcome to the life of a junior doctor: 97-hour weeks, life and death decisions, a constant tsunami of bodily fluids, and the hospital parking meter earns more than you.
Scribbled in secret after endless days, sleepless nights and missed weekends, Adam Kay's This is Going to Hurt provides a no-holds-barred account of his time on the NHS front line.
Hilarious, horrifying and heartbreaking, this diary is everything you wanted to know - and more than a few things you didn't - about life on and off the hospital ward.
Sunday Times Number One Bestseller and Humour Book of the Year
---