Belinda Brown by David McKee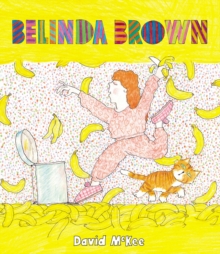 David McKee has created a new modern classic with the story of Belinda, a banana-obsessed young girl.
Her whole family thinks it's a phase, except for Grandma Brown: she worries, and worry is hard to keep down.
She asks Belinda to give up her favourite fruit before she gets a banana-shaped body, but Belinda has other ideas...
'What a joy; a new rhyming book from the Elmer and Mr Benn creator, David McKee... Fantastic illustrations' THE TIMES
---
Owen and the Soldier by Lisa Thompson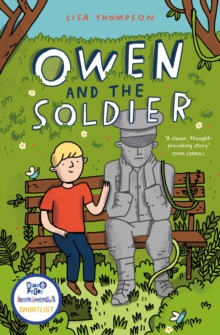 A crumbling stone soldier sits on a bench in the park. Only Owen understands how important he is. At home, Owen and his mum are struggling and there's nobody he can talk to. Hidden away in the park, Owen feels free to be himself. When the war-weary soldier is listening, his worries slip away. But nobody else cares about the soldier, and the town council want to tear him down. Owen's the only one who can save him but can he find the courage to speak up before it's too late? A touching story of loss and remembrance from Lisa Thompson, the award-winning author of The Goldfish Boy. Particularly suitable for struggling, reluctant or dyslexic readers aged 8+
---
The Marvel Ultimate Fact Book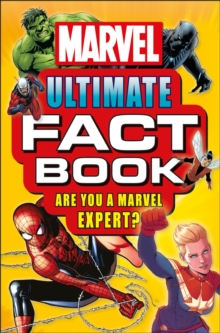 This trivia-packed book is full of facts and quizzes about all your favourite Marvel Super Heroes and villains, including Spider-Man, Ant-Man, Wasp, Captain America, Black Panther, Loki, Scarlet Witch, Iron Man, Guardians of the Galaxy and the Avengers. Are you a Marvel comics superfan? Find out and add to your knowledge of Marvel heroes, Super Hero teams and villains with fact-packed spreads and brain-tingling questions! Test your family and entertain your friends with hours of tricky trivia. Learn everything there is to know about the Marvel universe, including characters, vehicles, super-powers, and secret identities. Find out what country is ruled by Black Panther. What is Ant-Man's real name? What is Yondu's super-power? Can you name Doctor Strange's secret base? Discover the answers to these questions - and many, many more - in the Marvel Ultimate Fact Book.
---
Evie and the Animals by Matt Haig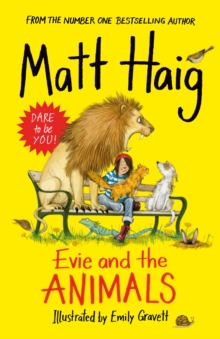 Ten-year-old Evie has a talent. A supertalent. Evie can talk to animals and HEAR their thoughts. Pretty amazing, isn't it?One day at school, Evie sets Kahlo the rabbit free from her too-small cage. Evie knows she's done A Good Thing . . . but it lands her in big trouble. Evie's dad and Granny Flora say her talent is a curse; she must never use it again. Until a year later pets on her street - including Lady Gaga the cat and a hamster named Cheryl - start disappearing. Evie is determined to find them. But it's dangerous for her to help. Because the villain has a talent of their own, and only wants to use it for evil . . . Can Evie save the pets before it's too late, even if it means daring to be herself?
---
The Dragon in the Library by Louie Stowell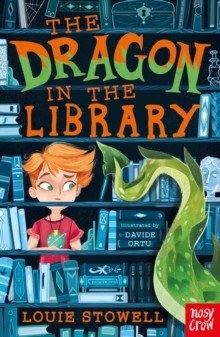 Kit can't STAND reading.
She'd MUCH rather be outside, playing games and getting muddy, than stuck inside with a book.
But when she's dragged along to the library one day by her two best friends, she makes an incredible discovery!
Soon it's up to Kit and her friends to save the library ... and the world.
---
William Bee's Wonderful World of Trains, Boats and Planes
Publication Date: 6 June
Price: £6.99
New in paperback!
William Bee is back and this time he's showing us his amazing collection of trains, boats, planes and more.
There's his harrier jump jet, which can take off vertically, his World War I fighter plane that can perform amazing stunts, the steam locomotive (peep peep!), the mini submarine, his speedboat (occasionally stolen by Sparky the Dog), and even his space rocket! Blast off!The cone family are helping, or is that hindering?, with the transport, as is Sparky. Perfect for every child fascinated by amazing vehicles that can fly, float, dive underwater, travel on tracks and blast off into outer space!
Vroom Vroom! Peep Peep! We have blast off!
---
Diary of an Awesome Friendly Kid by Jeff Kinney
Hi my name is Rowley Jefferson and this is my book.
Now I have a diary just like my friend Greg... Rowley's best friend Greg Heffley has chronicled his middle-school years in thirteen Diary of a Wimpy Kid journals. Now it's Rowley's turn to give his side of the story. But Rowley has agreed to tell Greg's story along the way, too. (After all, Greg says one day he will be rich and famous and the world will need to know how he managed it). But Rowley's stories about Greg might not be quite what his friend had in mind . . .
The opening of Diary of an Awesome Friendly Kid was originally published as the World Book Day 2019 title - Diary of Greg Heffley's Best Friend.
---
Kind by Alison Green
Imagine a world where everyone is kind - how can we make that come true?
With gorgeous pictures by a host of top illustrators, KIND is a timely, inspiring picture book about the many ways children can be kind, from sharing their toys andgames to helping those from other countries feel welcome.
The book is endorsed by GRUFFALO illustrator Axel Scheffler, and one pound from the sale of each printed copy will go to the Three Peas charity, which gives vital help to refugees from war-torn countries.
---
Lightning Mary by Anthea Simmons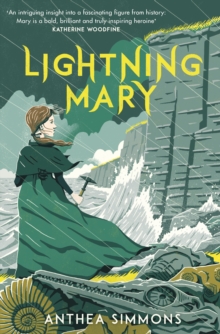 Ordinary is what most people are and I am not. I am not ordinary at all. I am a scientist.
One stormy night, a group of villagers are struck by lightning. The only survivor is a baby - Mary Anning. From that moment on, a spark is lit within her. Growing up poor but proud on the windswept Dorset coast, Mary follows after her father, hunting for fossils uncovered by waves and landslips: ancient creatures, turned to stone. Ignoring other people's taunts, Mary faces danger to bring back valuable treasures to help feed her family.
But tragedy and despair is never far away. Mary must depend upon her unique courage and knowledge to fulfil her dream of becoming a scientist in a time when girls have no opportunities for such ambitions. What will happen when she makes her greatest discovery of all...?
With a factual section about Mary Anning, her life, and the discoveries she made.
---
Big Cat by Emma Lazell
The brilliant debut from a rising star of the picture book world, tipped as 'one to watch' by The Bookseller magazine. Isobel's grandma has lost her glasses and she can't see a thing without them. While Isobel and Gran are in the garden searching for the specs, they come across a cat. A very big cat. A very big and friendly cat. The big cat moves in with them, much to the disgust of all gran's other cats. He might be good fun, but he takes up lots of space and eats every scrap of food. Eventually the new cat's mum and dad turn up, looking for their missing son. And they just happen to have found gran's glasses too. The tiger family are delighted to be reunited - and gran now sees that she's been sharing her house with... a tiger!A heartwarming and surreal romp, packed with jokes and funny details and with an underlying message of acceptance. Emma's bright colours and brilliant characterisation gives the book the look of a classic from the 1970s or earlier, but with a very modern sense of humour and sensibility.
---
Ella on the Outside by Cath Howe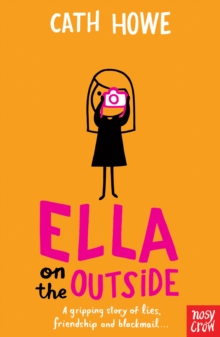 Ella is the new girl at school.
She doesn't know anyone and she doesn't have any friends.
And she has a terrible secret.
Ella can't believe her luck when Lydia, the most popular girl in school, decides to be her new best friend - but what does Lydia really want? And what does it all have to do with Molly, the quiet, shy girl who won't talk to anyone?A gripping story of lies, friendship, and blackmail...
"A perfectly-pitched, thoughtful story with a big heart." - Katherine Woodfine, author of The Clockwork Sparrow
---
F is for Feminism: An Alphabet Book of Empowerment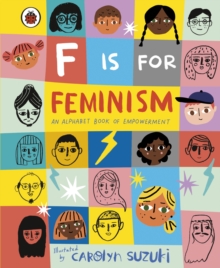 This bright and bold dictionary of twenty-six thought-provoking words from A-Z is perfect for equipping girls and boys with the words they need to empower themselves. Including:Activism: trying to change something important by making your voice heardBrainpower: your ability to come up with brilliant ideasCompassion: caring about other people's sufferingDiversity: including all kinds of different peopleEquality: when everyone is treated in the same way Feminism: fighting for equality between girls, boys and everyoneWith bright and inclusive artwork from illustrator Carolyn Suzuki, F is for Feminism is a great conversation starter, and will inspire and motivate activists of all ages.
---
Fing by David Walliams
Meet the Meeks! Myrtle Meek has everything she could possibly want. But everything isn't enough. She wants more, more, MORE!
When Myrtle declares she wants a FING, there's only one problem... What is a FING? Mr and Mrs Meek will do anything to keep their darling daughter happy, even visit the spooky library vaults to delve into the dusty pages of the mysterious Monsterpedia. Their desperate quest leads to the depths of the jungliest jungle where the rarest creatures can be found. But will they ever find a FING? An explosively funny, totally surreal Tall Story about two perfectly nice parents and their unbelievably monstrous daughter from the phenomenal bestselling author David Walliams.
---
On the Origin of the Species by Sabina Radeva
The first ever picture-book retelling of Charles Darwin's On The Origin of Species; this accessible work brings evolution to the younger generation through stylish illustrations and a simple, easy-to-understand text. On The Origin of Species has been the definitive explanation of the theory of evolution since it was first published in 1859. Now molecular biologist and illustrator Sabina Radeva unites her two passions to create a 48-page retelling of this seminal text. Pulling together Darwin's observations from his travels around the world and his groundbreaking - and controversial - explanation of how species form, develop and change over hundreds of thousands of years, On The Origin of Species is as relevant and important now as it ever was.
---
The Sea Book by Charlotte Milner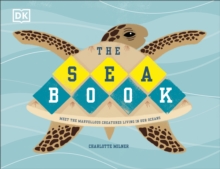 Featuring fascinating fishy facts accompanied by bright, bold, and beautiful illustrations, this book takes children on a journey through the sea and all its zones. Touching on mammals, fish, invertebrates, and reptiles, The Sea Book explores a wealth of incredible marine animals and their habitats, from up on the ice, down to colourful coral reefs, underwater forests, and right down to the deepest darkest depths where the weird and wonderful lurk. Following on from The Bee Book, Charlotte Milner continues to highlight to children important ecological issues faced by our planet, this time with a focus on marine life and the damaging effects humans are having on our seas. Children will discover what they can do to help, and there are tips on how to live plastic-free. Children will even get to craft their own recycled shopping bag! This charming celebration of the sea shows children just how extraordinary our oceans are, and is a reminder that it is up to us to keep it that way.
---
Our Castle by the Sea by Lucy Strange
From the bestselling author of The Secret of Nightingale Wood comes an exciting wartime mystery entwined with magic and myth ...
England is at war. Growing up in a lighthouse, Pet's world has been one of storms, secret tunnels and stories about sea monsters.
But now the clifftops are a terrifying battleground, and her family is torn apart.
This is the story of a girl who is small, afraid and unnoticed.
A girl who freezes with fear at the enemy planes ripping through the skies overhead. A girl who is somehow destined to become part of the strange, ancient legend of the Daughters of Stone ...
---
The Skylarks' War by Hilary McKay
The Skylarks' War is a beautiful story following the loves and losses of a family growing up against the harsh backdrop of World War One, from the award-winning Hilary McKay.
Clarry and her older brother Peter live for their summers in Cornwall, staying with their grandparents and running free with their charismatic cousin, Rupert. But normal life resumes each September - boarding school for Peter and Rupert, and a boring life for Clarry at home with her absent father, as the shadow of a terrible war looms ever closer.
When Rupert goes off to fight at the front, Clarry feels their skylark summers are finally slipping away from them.
Can their family survive this fearful war?
---
Dog Man 6: Brawl of the Wild by Dave Pilkey
The SIXTH book in the hilarious series from the creator of Captain Underpants!
Is Dog Man bad to the bone?
The heroic hound is sent to the pound for a crime he didn't commit!
While his pals work to prove his innocence, Dog Man struggles to find his place among dogs and people.
Being a part of both worlds, will he ever fully fit in with one?
---
Peppa's Chinese New Year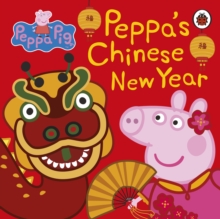 It is Chinese New Year.
Madame Gazelle is teaching the children all about this very special celebration.
Peppa and George and their friends make Chinese New Year cards.
They also try tasty Chinese treats and even take part in their very own dragon parade!
---
The Ice Monster by David Walliams
From No. 1 bestselling children's author, David Walliams comes his biggest and most epic adventure yet!
Illustrated by the artistic genius Tony Ross. This is the story of a ten-year-old orphan and a 10,000-year-old mammoth...
Read all about it! Read all about it! ICE MONSTER FOUND IN ARCTIC!
When Elsie, an orphan on the streets of Victorian London, hears about the mysterious Ice Monster - a woolly mammoth found at the North Pole - she's determined to discover more... A chance encounter brings Elsie face to face with the creature, and sparks the adventure of a lifetime - from London to the heart of the Arctic!
Heroes come in all different shapes and sizes in David Walliams' biggest and most epic adventure yet!
---
Explorers on Witch Mountain by Alex Bell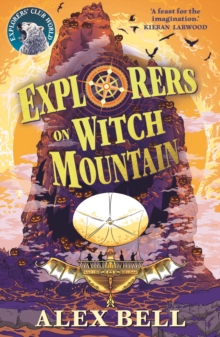 Stella Starflake Pearl is eagerly anticipating her next expedition.
Suddenly disaster strikes when Stella's father, Felix, is snatched by a fearsome witch. Stella must bring her magic ice princess tiara to Witch Mountain or she will never see Felix again!
But no one ever returns from Witch Mountain... Stella, Ethan, Shay, Beanie and reluctant Jungle Cat explorer, Gideon, set off into the unknown.
They will face terrifying bat caves, poisonous apple groves, outraged vultures, argumentative mushrooms and deranged broomsticks in their quest to rescue Felix.
---
Diary of a Wimpy Kid: The Meltdown by Jeff Kinney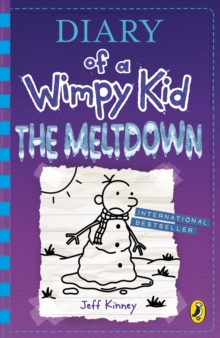 The 13th hilarious book in Jeff Kinney's bestselling Diary of a Wimpy Kid series. When snow shuts down Greg Heffley's middle school, his neighbourhood transforms into a wintry battlefield. Rival groups fight over territory, build massive snow forts, and stage epic snowball fights. And in the crosshairs are Greg and his trusty best friend, Rowley Jefferson. It's a fight for survival as Greg and Rowley navigate alliances, betrayals, and warring gangs in a neighbourhood meltdown. When the snow clears, will Greg and Rowley emerge as heroes? Or will they even survive to see another day?With millions of books sold around the world in 65 editions and 56 languages, Wimpy Kid has turned millions of kids into readers.
---
Tom Gates 15: What Monster? by Liz Pichon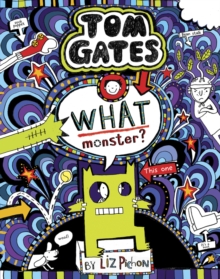 The bestselling, fully illustrated Tom Gates series is back!
Winner of the ROALD DAHL FUNNY PRIZE.
This book contains: - MONSTERS - MYSTERY - A MUSIC FESTIVAL - MISSING stuff - ME and Marcus (Not necessarily in THAT order).
AND a very strict supply teacher.....
..... but don't let that put you off!
---
Death in the Spotlight by Robin Stevens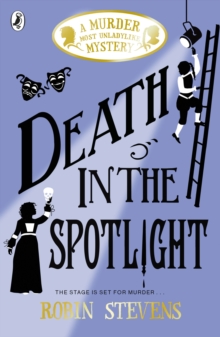 Someone will take their final bow . . .
Fresh from their adventure in Hong Kong, Hazel Wong and Daisy Wells are off to the Rue Theatre in London to face an entirely new challenge: acting.
But danger has a nasty habit of catching up with the Detective Society, and it soon becomes clear that there is trouble afoot at the Rue.
Jealousy, threats and horrible pranks quickly spiral out of control - and then a body is found.
Now Hazel and Daisy must take centre stage and solve the crime . . . before the murderer strikes again.
---
Ella Bella Ballerina and the Magic Toyshop by James Meyhew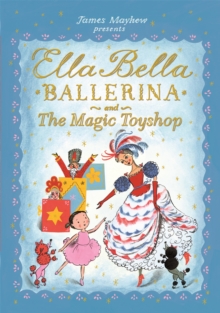 Everyone's favourite little dancer, Ella Bella Ballerina, steps into an enchanted toyshop in this magical ballet adventure. Discover a world of fairytale toymakers and dancing dolls in in this beautiful introduction to classic ballet, La Boutique Fantastique.
With a sparkling foiled cover and exquisitely detailed illustrations, this is the perfect gift for all would-be ballerinas.
Look out for the other books in the series:Ella Bella and A Midsummer Night's Dream, Ella Bella Ballerina and Swan Lake, Ella Bella Ballerina and Cinderella, Ella Bella Ballerina and The Sleeping Beauty, Ella Bella Ballerina and The Nutcracker
---
The King who Banned the Dark by Emily Haworth-Booth
There was once a little boy who was afraid of the dark. There's nothing unusual about that. Most children are afraid of the dark at one time of another. But this little boy was a Prince, and he decided that when he became King, he would do something about the dark. He would ban it. When the King bans the dark completely, installing an artificial sun, and enforcing "anti-dark" laws, it seems like a good idea. The citizens don't need to worry about any of the scary things that might live in the dark. But what happens when nobody can sleep, and the citizens revolt? Will the King face his fears and turn the lights off?
The King Who Banned the Dark is a beautiful and thought-provoking story about how we need the dark in order to enjoy the light.
---
The Giant Jumperee by Julia Donaldson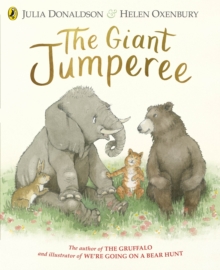 Rabbit was hopping home one day when he heard a loud voice coming from inside his burrow.
'I'm the Giant Jumperee and I'm as Scary as can be'.
When Rabbit's friends Cat, Bear and Elephant come to help they are each scared away in turn by the mysterious voice. He can squash you like a flea. He will sting you like a bee. And he's taller than a tree! But who is the Giant Jumperee?
Inspired by a traditional African tale, this is a new read-aloud classic from internationally bestselling author Julia Donaldson, beautifully brought to life by award-winning illustrator Helen Oxenbury.
---
First Prize for the Worst Witch by Jill Murphy
As seen on TV, accident-prone Mildred Hubble is the Worst Witch at Miss Cackle's Academy. She's always getting her spells wrong and landing herself in trouble. But Mildred is now in the last term of 4th Year and determined to prove that she's not as useless as everyone thinks - could it be First Prize for the worst witch after all?Mildred Hubble is the original Worst Witch. Her adventures began in 1974 and have been in print every since. Hugely successful, in 2016 Mildred's escapades with best friends Maud and Enid, were adapted for TV to much acclaim, with a second series to come in spring 2017. Jill Murphy started putting books together (literally with a stapler), when she was six. The Worst Witch was first published in 1974 and this much-loved classic has been enjoyed by readers for more than 40 years. Jill Murphy also written and illustrated several award-winning picture books for younger children. The Worst Witch series includes: The Worst Witch, A Bad Spell for the Worst Witch, The Worst Witch All at Sea, The Worst Witch Saves the Day and The Worst Witch to the Rescue and The Worst Witch and the Wishing Star.
---
The Boy at the Back of the Class by Onjali Q. Rauf
Told with heart and humour, The Boy at the Back of the Class is a child's perspective on the refugee crisis, highlighting the importance of friendship and kindness in a world that doesn't always make sense.
There used to be an empty chair at the back of my class, but now a new boy called Ahmet is sitting in it. He's nine years old (just like me), but he's very strange. He never talks and never smiles and doesn't like sweets - not even lemon sherbets, which are my favourite!But then I learned the truth: Ahmet really isn't very strange at all. He's a refugee who's run away from a War. A real one. With bombs and fires and bullies that hurt people. And the more I find out about him, the more I want to help. That's where my best friends Josie, Michael and Tom come in.
Because you see, together we've come up with a plan. . .
---
Oi Cat! by Kes Gray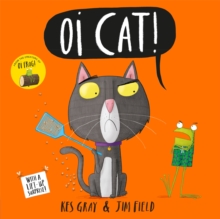 The laughter never ends with Oi Frog and friends ...
Don't miss this hilarious follow-up to Oi Frog! and Oi Dog! from the award-winning Kes Gray and Jim Field.
A brilliant rhyming read-aloud text, jam-packed with animals and silliness - perfect for children and parents alike.
According to Frog ... Cats sit on gnats, Dogs sit on logs, Raccoons sit on macaroons, Armadillos sit on pillows and Chicks sit on bricks.
But wait! Cat doesn't like sitting on gnats, they keep biting his bottom!
Will Frog and Dog help him change the rules?
---
Mud by Emily Thomas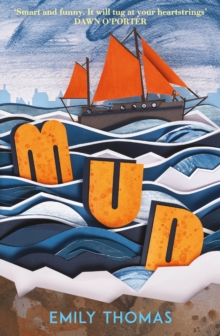 It's 1979, and thirteen-year-old Lydia has no idea how she'll cope when her dad announces that the family has to sell up and move onto a Thames sailing barge in Essex. With his girlfriend. And her three kids. Between trying to keep her clothes dry in a leaky cabin, disastrous hair-dye attempts, awkward encounters with local boys, and coping with her suddenly enormous and troublesome family, Lydia fears she'll sink rather than swim . . .
At turns heartbreaking and uplifting, through Lydia's innocent and perceptive voice we find out that while the mud may stick, the tide can turn - and in unexpected and joyful ways.
Perfect for fans of Louise Rennison, Hilary McKay and Rae Earl
---
How to be Good at Science, Technology and Engineering
Little scientists will understand science in seconds with this essential homework-helping guide. Learn about everything from molecules and magnetism to rockets and radio waves and find out how a hot-air balloon rises, how erosion flattens mountains, how light waves zip through space, and how the human eye sees colours! With STEM (science, technology, engineering, and maths) subjects ever more important in today's technological world, How to be Good at Science, Technology, and Engineering is the perfect book to inspire and educate inquisitive young minds and prepare them for the future. This is the perfect homework guide for parents and their children, with all core curriculum areas of science included. Cool illustrations show the appliance of science in the real world: see how microchips, tractors, and suspension bridges work. Hands-on projects feature fun experiments to try at home or school: try polishing old coins in vinegar, or make an erupting volcano with baking soda.
---
Goodnight Stories for Rebel Girls 2
100 new bedtime stories, each inspired by the life and adventures of extraordinary women from Nefertiti to Beyonce.
The unique narrative style of "Good Night Stories for Rebel Girls" transforms each biography in a fairy-tale, filling the readers with wonder and with a burning curiosity to know more about each hero.
---