The Ministry or Utmost Happiness by Arundhati Roy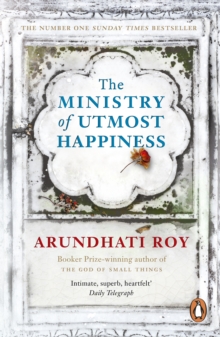 At magic hour; when the sun has gone but the light has not, armies of flying foxes unhinge themselves from the Banyan trees in the old graveyard and drift across the city like smoke . . .
So begins The Ministry of Utmost Happiness, Arundhati Roy's incredible follow-up to The God of Small Things.
We meet Anjum, who used to be Aftab, who runs a guesthouse in an Old Delhi graveyard and gathers around her the lost, the broken and the cast out.
We meet Tilo, an architect, who, although she is loved by three men, lives in a 'country of her own skin'.
When Tilo claims an abandoned baby as her own, her destiny and that of Anjum become entangled as a tale that sweeps across the years and a teeming continent takes flight . . .
---
A Legacy of Spies by John le Carre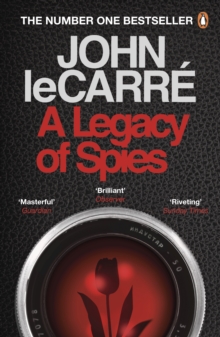 Peter Guillam, former disciple of George Smiley in the British Secret Service, has long retired to Brittany when a letter arrives, summoning him to London.
The reason?
Cold War ghosts have come back to haunt him.
Intelligence operations that were once the toast of the Service are to be dissected by a generation with no memory of the Berlin Wall.
Somebody must pay for innocent blood spilt in the name of the greater good .
---
The Dreams of Bethany Mellmoth by William Boyd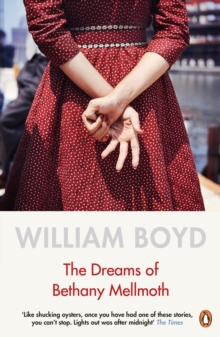 A philandering art dealer tries to give up casual love affairs - seeking only passionate kisses as a substitute.
A man recounts his personal history through the things he has stolen from others throughout his life.
A couple chart the journey of their five year relationship backwards, from awkward reunion to lovelorn first encounter.
And, at the heart of the book, a 24-year old young woman, Bethany Mellmoth, embarks on a year-long journey of wishful and tentative self-discovery.
The Dreams of Bethany Mellmoth depicts the random encounters that bring the past bubbling to the surface; the impulsive decisions that irrevocably shape a life; and the endless hesitations and loss-of-nerve that wickedly complicate it. These funny, surprising and moving stories are a resounding confirmation of Boyd's powers as one of our most original and compelling storytellers.
---
Munich by Robert Harris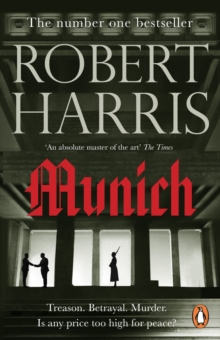 MUNICH, SEPTEMBER 1938
Hitler is determined to start a war. Chamberlain is desperate to preserve the peace.
They will meet in a city which forever afterwards will be notorious for what is about to take place. As Chamberlain's plane judders over the channel and the Fuhrer's train steams south, two young men travel with their leaders.
Former friends from a more peaceful time, they are now on opposing sides. As Britain's darkest hour approaches, the fate of millions could depend on them - and the secrets they're hiding.
Spying. Betrayal. Murder.
Is any price too high for peace?
---
After the Party by Cressida Connolly
'Had it not been for my weakness, someone who is now dead could still be alive. That is what I believed and consequently lived with every day in prison.'It is the summer of 1938 and Phyllis Forrester has returned to England after years abroad. Moving into her sister's grand country house, she soon finds herself entangled in a new world of idealistic beliefs and seemingly innocent friendships. Fevered talk of another war infiltrates their small, privileged circle, giving way to a thrilling solution: a great and charismatic leader, who will restore England to its former glory. At a party hosted by her new friends, Phyllis lets down her guard for a single moment, with devastating consequences. Years later, Phyllis, alone and embittered, recounts the dramatic events which led to her imprisonment and changed the course of her life forever. Powerful, poignant, and exquisitely observed, After the Party is an illuminating portrait of a dark period of British history which we are yet to fully acknowledge.
---
24 Stories: of Hope for the Survivors of the Grenfell Tower Fire, collected by Kathy Burke
On the night of 14 June 2017, a fire engulfed the 24-storey Grenfell Tower in west London, killing at least 72 people and injuring many more. An entire community was destroyed. For many people affected by this tragedy, the psychological scars may never heal. Post-Traumatic Stress Disorder is a condition that affects many people who have endured traumatic events, leaving them unable to move on from life-changing tragedies. In the immediate aftermath of the fire, the focus was rightly placed on providing food, shelter and health care for those left homeless - but it is important that we don't lose sight of the psychological impact this fire will have had on its survivors. 24 Stories is an anthology of short stories, written on themes of community and hope, by a mix of the UK's best established writers and previously unpublished authors, whose pieces were chosen by Kathy Burke from over 250 entries. Contributors include: Irvine Welsh, A. L. Kennedy, Meera Syal, John Niven, Pauline Melville, Daisy Buchanan, Christopher Brookmyre, Zoe Venditozzi, Nina Stibbe, Mike Gayle, Murray Lachlan Young, Barney Farmer.
---
Beautiful Animals by Lawrence Osborne
During a white-hot summer on the idyllic Greek island of Hydra, two girls fall into one another's lives to devastating effect. When Samantha, a young, impressionable American, meets Naomi, a Brit with a taste for danger, their relationship quickly takes on a special intensity. Amid the sun, sea and high society of island life, their imaginations are sparked when one day they find a young Arab man, Faoud, washed up on shore, a casualty of the crisis raging across the Aegean. But when their seemingly simple plan to help the stranger goes wrong, all must face the horrific consequences they have set in motion. Beautiful Animals exposes the dark heart of friendship, and shows just how often the road to hell is paved with the best of intentions.
---
The President is Missing by Bill Clinton and James Patterson
Former President Bill Clinton and global thriller master James Patterson have joined forces to create the most anticipated book of 2018.
The President is Missing.
Amid an international crisis, the impossible has happened.
A sitting U.S. President has disappeared.
What follows is the most dramatic three days any president has ever faced - and maybe the most dramatic three days in American history.
And it could all really happen.
Full of details only a president could know, Bill Clinton and James Patterson have written the most authentic - and gripping - presidential thriller ever.
---
The Sparsholt Affair by Alan Hollinghurst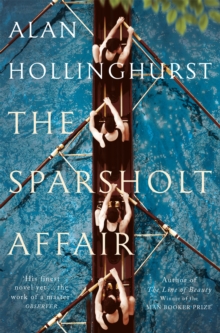 In October 1940, the handsome young David Sparsholt arrives in Oxford. A keen athlete and oarsman, he at first seems unaware of the effect he has on others - particularly on the lonely and romantic Evert Dax, son of a celebrated novelist and destined to become a writer himself. While the Blitz rages in London, Oxford exists at a strange remove: an ephemeral, uncertain place, in which nightly blackouts conceal secret liaisons. Over the course of one momentous term, David and Evert forge an unlikely friendship that will colour their lives for decades to come . . . Alan Hollinghurst's masterly new novel evokes the intimate relationships of a group of friends bound together by art, literature and love across three generations. It explores the social and sexual revolutions of the most pivotal years of the past century, whose life-changing consequences are still being played out to this day. Richly observed, disarmingly witty and emotionally charged, The Sparsholt Affair is an unmissable achievement from one of our finest writers.
---
Forever and a Day by Anthony Horowitz
A spy is dead. A legend is born. This is how it all began.
The explosive prequel to Casino Royale, from bestselling author Anthony Horowitz.
M laid down his pipe and stared at it tetchily. 'We have no choice. We're just going to bring forward this other chap you've been preparing. But you didn't tell me his name.' 'It's Bond, sir,' the Chief of Staff replied. 'James Bond.' The sea keeps its secrets. But not this time. One body. Three bullets. 007 floats in the waters of Marseille, killed by an unknown hand. It's time for a new agent to step up.
Time for a new weapon in the war against organised crime. It's time for James Bond to earn his licence to kill.
This is the story of the birth of a legend, in the brutal underworld of the French Riviera.
---
New Boy by Tracy Chevalier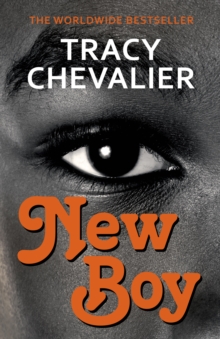 From the bestselling author of Girl with a Pearl Earring and The Last Runaway.
Arriving at his fourth school in six years, diplomat's son Osei knows he needs an ally if he is to survive his first day - so he's lucky to hit it off with Dee, the most popular girl in school. But one student can't stand to witness this budding relationship: Ian decides to destroy the friendship between the black boy and the golden girl. By the end of the day, the school and its key players - teachers and pupils alike - will never be the same again.
The tragedy of Othello is transposed to a 1970s suburban Washington schoolyard in Tracy Chevalier's powerful drama of friends torn apart by jealousy, bullying and betrayal.
---
The Outsider by Stephen King
When an eleven-year-old boy is found murdered in a town park, reliable eyewitnesses undeniably point to the town's popular Little League coach, Terry Maitland, as the culprit. DNA evidence and fingerprints confirm the crime was committed by this well-loved family man. Horrified by the brutal killing, Detective Ralph Anderson, whose own son was once coached by Maitland, orders the suspect to be arrested in a public spectacle. But Maitland has an alibi. And further research confirms he was indeed out of town that day. As Anderson and the District Attorney trace the clues, the investigation expands from Ohio to Texas. And as horrifying answers begin to emerge, so King's propulsive story of almost unbearable suspense kicks into high gear. Terry Maitland seems like a nice guy but there is one rock-hard fact, as unassailable as gravity: a man cannot be in two places at the same time. Can he?
---
Little Fires Everywhere by Celeste Ng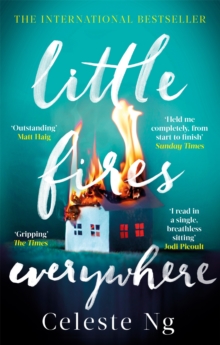 Everyone in Shaker Heights was talking about it that summer: how Isabelle, the last of the Richardson children, had finally gone around the bend and burned the house down. In Shaker Heights, a placid, progressive suburb of Cleveland, everything is meticulously planned - from the layout of the winding roads, to the colours of the houses, to the successful lives its residents will go on to lead. And no one embodies this spirit more than Elena Richardson, whose guiding principle is playing by the rules. Enter Mia Warren - an enigmatic artist and single mother- who arrives in this idyllic bubble with her teenage daughter Pearl, and rents a house from the Richardsons. Soon Mia and Pearl become more than just tenants: all four Richardson children are drawn to the mother-daughter pair. But Mia carries with her a mysterious past, and a disregard for the rules that threatens to upend this carefully ordered community. When old family friends attempt to adopt a Chinese-American baby, a custody battle erupts that dramatically divides the town - and puts Mia and Elena on opposing sides. Suspicious of Mia and her motives, Elena is determined to uncover the secrets in Mia's past. But her obsession will come at an unexpected and devastating cost...
---
Wake by Gillian Allnut
When Gillian Allnutt was awarded the Queen's Gold Medal for Poetry, Carol Ann Duffy wrote that her work `has always been in conversation with the natural world and the spiritual life'.
Her latest collection, wake, shows the two beginning to meld into one: to speak for, even as, one another. As her title signals, these are poems about looking back, keeping watch over the dying and death of an old world and the ways of being human in that world; but also forward, waiting for the new world and being ready to awaken to it when it comes.
There are, as always in her work, many displaced people.
No one here is fully at home in the world.
These are turbulent times - individually and collectively - and the poems here reflect that. And yet the poems are more `among' than `about' people: speaking out of the horde, and the hoard, of humanity as a whole.
---
The Awkward Age by Francesca Segal
What does it take to be a family?
Julia has fallen deeply, unexpectedly in love.
James is her second chance, and everything she never knew she wanted.
It's perfect but for two things: their children.
Julia's beloved daughter Gwen loathes James and James's son Nathan takes pleasure in antagonising his new stepsister.
Uniting two households is never easy, but the teenagers' unexpected actions will eventually threaten everyone's hard-won happiness.
---
The Burning Chamber by Kate Mosse
Bringing sixteenth-century Languedoc vividly to life, Kate Mosse's The Burning Chambers is a gripping story of love and betrayal, mysteries and secrets; of war and adventure, conspiracies and divided loyalties . . . Carcassonne 1562: Nineteen-year-old Minou Joubert receives an anonymous letter at her father's bookshop. Sealed with a distinctive family crest, it contains just five words: SHE KNOWS THAT YOU LIVE. But before Minou can decipher the mysterious message, a chance encounter with a young Huguenot convert, Piet Reydon, changes her destiny forever. For Piet has a dangerous mission of his own, and he will need Minou's help if he is to get out of La Cite alive. Toulouse: As the religious divide deepens in the Midi, and old friends become enemies, Minou and Piet both find themselves trapped in Toulouse, facing new dangers as sectarian tensions ignite across the city, the battle-lines are drawn in blood and the conspiracy darkens further. Meanwhile, as a long-hidden document threatens to resurface, the mistress of Puivert is obsessed with uncovering its secret and strengthening her power .
---
The Librarian by Salley Vickers
A charmingly subversive novel about a library in 1950s England, by the acclaimed author of The Cleaner of ChartresSylvia Blackwell, a young woman in her twenties, moves to East Mole, a quaint market town in middle England, to start a new job as a children's librarian.
But the apparently pleasant town is not all it seems.
Sylvia falls in love with an older man - but it's her connection to his precocious young daughter and her neighbours' son which will change her life and put them, the library and her job under threat.
How does the library alter the young children's lives and how do the children fare as a result of the books Sylvia introduces them to?
---
Property: A Collection by Lionel Shriver
First ever story collection from the inimitable Lionel Shriver.
This landmark publication, the first collection of stories from a master of the form, explores the idea of "property" in both senses of the word: real estate, and stuff.
These sharp, brilliantly imaginative pieces illustrate how our possessions act as proxies for ourselves, and how tussles over ownership articulate the power dynamics of our relationships.
In Shriver's world, we may possess people and objects and places, but in turn they possess us.
---
Persons Unknown by Susie Steiner
Second literary thriller from bestselling author of Missing, Presumed.
A brutal murder.
A detective with no one left to trust.
A young man murdered. A city banker bleeds to death yards from a Cambridgeshire police headquarters. A detective out of her depth.
DI Manon Bradshaw's world is turned upside down when the victim turns out to be closer to her than she could have guessed.
Who Should she believe?
When even her trusted colleagues turn their backs on her, it's time to contemplate the unthinkable: are those she holds dear capable of murder?
---
The Party by Elzabeth Day
Martin Gilmour and Ben Fitzmaurice have been best friends for 25 years, since their days together at Burtonbury School. They are an unlikely pair: the scholarship boy with the wrong accent and clothes, and the dazzlingly popular, wealthy young aristocrat. But Martin knows no one else can understand the bond they share - and no one else could have kept Ben's secret for over two decades. At Ben's 40th birthday party, the cream of the British establishment gathers in a haze of champagne, drugs and glamour. Amid the politicians, the celebrities, the old money and the newly rich, Martin once again feels that pang of not quite belonging. His wife Lucy has her reservations, too. There is something unnerving in the air. But Ben wouldn't do anything to damage their friendship. Would he?
---
The Murder of my Aunt by Richard Hull
'I should be very much happier if she were dead.'
Edward Powell lives with his Aunt Mildred in the Welsh town of Lywll.
His aunt thinks Lywll an idyllic place to live, but Edward loathes the countryside - and thinks the company even worse.
In fact, Edward has decided to murder his aunt.
A darkly humorous depiction of fraught family ties, The Murder of My Aunt was first published in 1934.
---
Stay with Me by Ayobami Adebayo
Yejide is hoping for a miracle, for a child.
It is all her husband wants, all her mother-in-law wants, and she has tried everything.
But when her relatives insist upon a new wife, it is too much for Yejide to bear.
Unravelling against the social and political turbulence of 1980s Nigeria, Stay With Me is a story of the fragility of married love, the undoing of family, the power of grief, and the all-consuming bonds of motherhood.
It is a tale about the desperate attempts we make to save ourselves, and those we love, from heartbreak.
---
House of Names by Colm Toibin
They cut her hair before they dragged her to the place of sacrifice. Her mouth was gagged to stop her cursing her father, her cowardly, two-tongued father. Nonetheless, they heard her muffled screams.'On the day of his daughter's wedding, Agamemnon orders her sacrifice. His daughter is led to her death, and Agamemnon leads his army into battle, where he is rewarded with glorious victory. Three years later, he returns home and his murderous action has set the entire family - mother, brother, sister - on a path of intimate violence, as they enter a world of hushed commands and soundless journeys through the palace's dungeons and bedchambers. As his wife seeks his death, his daughter, Electra, is the silent observer to the family's game of innocence while his son, Orestes, is sent into bewildering, frightening exile where survival is far from certain. Out of their desolating loss, Electra and Orestes must find a way to right these wrongs of the past even if it means committing themselves to a terrible, barbarous act.House of Names is a story of intense longing and shocking betrayal. It is a work of great beauty, and daring, from one of our finest living writers.
---
Happiness by Aminatta Forna
Waterloo Bridge, London. Two strangers collide. Attila, a Ghanaian psychiatrist, and Jean, an American studying the habits of urban foxes. From this chance encounter in the midst of the rush of a great city, numerous moments of connections span out and interweave, bringing disparate lives together. Attila has arrived in London with two tasks: to deliver a keynote speech on trauma and to check up on the daughter of friends, his `niece', Ama, who hasn't called home in a while. It soon emerges that she has been swept up in an immigration crackdown - and now her young son Tano is missing. When, by chance, Attila bumps into Jean again, she joins him in his search for Tano, mobilizing into action the network she has built up, mainly from the many West African immigrants working London's myriad streets, of volunteer fox-spotters: security guards, hotel doormen, traffic wardens. All unite to help and as the search continues, a deepening friendship between Attila and Jean unfolds. In this delicate yet powerful novel of loves lost and new, of past griefs and of the hidden side of a multicultural metropolis, Aminatta Forna asks us to consider the values of the society we live in, our co-existence with one another and all living creatures - and the true nature of happiness.
---
The Music Shop by Rachel Joyce
From the author of the world-wide bestseller, The Unlikely Pilgrimage of Harold Fry: ' A beautiful novel, a tonic for the soul and a complete joy to read.' - Joanna Cannon, author of The Trouble with Goats and Sheep.
1988. Frank owns a music shop. It is jam-packed with records of every speed, size and genre. Classical, jazz, punk - as long as it's vinyl he sells it. Day after day Frank finds his customers the music they need. Then into his life walks Ilse Brauchmann. Ilse asks Frank to teach her about music. His instinct is to turn and run. And yet he is drawn to this strangely still, mysterious woman with her pea-green coat and her eyes as black as vinyl.
But Ilse is not what she seems.
And Frank has old wounds that threaten to re-open and a past he will never leave behind .
---
Conversations with Friends by Sally Rooney
Frances is twenty-one years old, cool-headed and observant.
A student in Dublin and an aspiring writer, at night she performs spoken word with her best friend Bobbi, who used to be her girlfriend.
When they are interviewed and then befriended by Melissa, a well-known journalist who is married to Nick, an actor, they enter a world of beautiful houses, raucous dinner parties and holidays in Provence, beginning a complex menage-a-quatre.
But when Frances and Nick get unexpectedly closer, the sharply witty and emotion-averse Frances is forced to honestly confront her own vulnerabilities for the first time.
---
The Incendium Plot by A D Swanston
England, 1572. A powder keg of rumour, fanaticism, treachery and dissent. All it would take is a single spark . . . In the England of Elizabeth I, the fear of plague, invasion and the threat of insurrection are constant. As the Earl of Leicester's chief intelligencer, lawyer Dr Christopher Radcliff is tasked with investigating rumours of treachery at home and the ever-present papist threat from abroad. And with heresy and religious unrest simmering beneath the surface of a country on the brink, Radcliff is under pressure to get results. Then two brutal and seemingly motiveless killings point alert Radcliff to the whisper of a new plot against the queen. There are precious few clues and it seems that all he and his network of agents have to go on is a single word: incendium. But what does it mean - and who lies behind it? Christopher Radcliff must find out before it's too late . .
---
Defectors by Joseph Kanon
Some secrets should never be told. Moscow, 1961: With the launch of Sputnik, the Soviet Union's international prestige is at an all-time high.
And the most notorious of the defectors to the Soviet Union, former CIA agent Frank Weeks, is about to publish his memoirs. What he reveals will send shock waves through the West. Weeks' defection in the early 1950s shook Washington to its core - and forced the resignation of his brother, Simon, from the State Department. Simon, now a publisher in New York, is given the opportunity to read and publish his brother's memoir.
He knows the US government will never approve the publication of what is clearly intended as KGB propaganda. Yet the offer is irresistible: it will finally give him the chance to learn why his brother chose to betray his country.But what he discovers in Moscow is far more shocking than he ever imagined ...
---
Exit West by Mohsin Hamid
An extraordinary story of love and hope from the bestselling, Man Booker-shortlisted author of The Reluctant Fundamentalist.
This is Nadia. She is fiercely independent with an excellent sense of humour and a love of smoking alone on her balcony late at night.
This is Saeed. He is sweet and shy and kind to strangers. He also has a balcony but he uses his for star-gazing.
This is their story: a love story, but also a story about how we live now and how we might live tomorrow. Saeed and Nadia are falling in love, and their city is falling apart. Here is a world in crisis and two human beings travelling through it.
Exit West is a heartfelt and radical act of hope - a novel to restore your faith in humanity and in the power of imagination.
---
The History of Wolves by Emily Fridlund
How far would you go to belong? Fourteen-year-old Linda lives with her parents in an ex-commune beside a lake in the beautiful, austere backwoods of northern Minnesota. The other girls at school call Linda 'Freak',or 'Commie'. Her parents mostly leave her to her own devices, whilst the other inhabitants have grown up and moved on. So when the perfect family - mother, father and their little boy, Paul - move into the cabin across the lake, Linda insinuates her way into their orbit. She begins to babysit Paul and feels welcome, that she finally has a place to belong. Yet something isn't right. Drawn into secrets she doesn't understand, Linda must make a choice. But how can a girl with no real knowledge of the world understand what the consequences will be?
---
Bad Romance by Emily Hill
Tales from the happily never after!.
At a wedding, one woman's revenge comes in the shape of her heavily pregnant belly.
As a career girl attempts to climb the ladder she slides down into ever more grotesque flatshares.
A single woman who always attends parties alone realises that the truth might not always be the best answer.
And one Londoner learns her most important lesson since moving to the city - never act friendly towards a stranger.
Bad Romance is dark, hilarious and moving by turn as Emily Hill's acid wit gives life to the women whose tales never normally make it into the storybooks.
---
Anything is Possible by Elizabeth Strout
An unforgettable cast of small-town characters copes with love and loss from the No. 1 New York Times bestselling and Man Booker long-listed author of My Name is Lucy Barton Recalling Olive Kitteridge in its richness, structure, and complexity, Anything Is Possible explores the whole range of human emotion through the intimate dramas of people struggling to understand themselves and others. Anything is Possible tells the story of the inhabitants of rural, dusty Amgash, Illinois, the hometown of Lucy Barton, a successful New York writer who finally returns, after seventeen years of absence, to visit the siblings she left behind. Reverberating with the deep bonds of family, and the hope that comes with reconciliation, Anything Is Possible again underscores Elizabeth Strout's place as one of America's most respected and cherished authors.
---
The Girl Before by J P Delaney
Enter the world of One Folgate Street and discover perfection . . . but can you pay the price?
Jane stumbles on the rental opportunity of a lifetime: the chance to live in a beautiful ultra-minimalist house designed by an enigmatic architect, on condition she abides by a long list of exacting rules.
After moving in, she discovers that a previous tenant, Emma, met a mysterious death there - and starts to wonder if her own story will be a re-run of the girl before.
As twist after twist catches the reader off guard, Emma's past and Jane's present become inexorably entwined in this tense, page-turning portrayal of psychological obsession.
---
Camino Island by John Grisham
Someone is about to make a killing . . .The most daring and devastating heist in literary history targets a high security vault located deep beneath Princeton University.
Valued at $25 million (though some would say priceless) the five manuscripts of F Scott Fitzgerald's only novels are amongst the most valuable in the world.
After an initial flurry of arrests, both they and the ruthless gang of thieves who took them have vanished without trace.
Now it falls to struggling writer Mercer Mann to crack a case that has thwarted the FBI's finest minds.
---
A Gentleman in Moscow by Amor Towles
On 21 June 1922, Count Alexander Rostov - recipient of the Order of Saint Andrew, member of the Jockey Club, Master of the Hunt - is escorted out of the Kremlin, across Red Square and through the elegant revolving doors of the Hotel Metropol.
Deemed an unrepentant aristocrat by a Bolshevik tribunal, the Count has been sentenced to house arrest indefinitely.
But instead of his usual suite, he must now live in an attic room while Russia undergoes decades of tumultuous upheaval.
Can a life without luxury be the richest of all?
---
How to Stop Time by Matt Haig
I am old. That is the first thing to tell you. The thing you are least likely to believe. If you saw me you would probably think I was about forty, but you would be very wrong.' Tom Hazard has a dangerous secret. He may look like an ordinary 41-year-old, but owing to a rare condition, he's been alive for centuries. From Elizabethan England to Jazz-Age Paris, from New York to the South Seas, Tom has seen a lot, and now craves an ordinary life. Always changing his identity to stay alive, Tom has the perfect cover - working as a history teacher at a London comprehensive. Here he can teach the kids about wars and witch hunts as if he'd never witnessed them first-hand. He can try to tame the past that is fast catching up with him. The only thing Tom must not do is fall in love. How to Stop Time is a wild and bittersweet story about losing and finding yourself, about the certainty of change and about the lifetimes it can take to really learn how to live.
---
Inside the Wave by Helen Dunmore
To be alive is to be inside the wave, always travelling until it breaks and is gone. These poems are concerned with the borderline between the living and the dead - the underworld and the human living world - and the exquisitely intense being of both. They possess a spare, eloquent lyricism as they explore the bliss and anguish of the voyage. Inside the Wave is Helen Dunmore's first new poetry book since The Malarkey (2012), whose title-poem won the National Poetry Competition. Her other books include Glad of These Times (2007), and Out of the Blue: Poems 1975-2001 (2001), a comprehensive selection drawing on seven previous collections. Her final poem, 'Hold out your arms', written shortly before her death and not included in the first printing of Inside the Wave, has now been added to the reprint.
---
Reservoir 13 by Jon McGregor
Reservoir 13 tells the story of many lives haunted by one family's loss. Midwinter in the early years of this century. A teenage girl on holiday has gone missing in the hills at the heart of England. The villagers are called up to join the search, fanning out across the moors as the police set up roadblocks and a crowd of news reporters descends on their usually quiet home. Meanwhile, there is work that must still be done: cows milked, fences repaired, stone cut, pints poured, beds made, sermons written, a pantomime rehearsed. The search for the missing girl goes on, but so does everyday life. As it must. An extraordinary novel of cumulative power and grace, Reservoir 13 explores the rhythms of the natural world and the repeated human gift for violence, unfolding over thirteen years as the aftershocks of a stranger's tragedy refuse to subside.
---
Eleanor Oliphant is Completely Fine by Gail Honeyman
Eleanor Oliphant has learned how to survive - but not how to live Eleanor Oliphant leads a simple life. She wears the same clothes to work every day, eats the same meal deal for lunch every day and buys the same two bottles of vodka to drink every weekend. Eleanor Oliphant is happy. Nothing is missing from her carefully timetabled life. Except, sometimes, everything. One simple act of kindness is about to shatter the walls Eleanor has built around herself. Now she must learn how to navigate the world that everyone else seems to take for granted - while searching for the courage to face the dark corners she's avoided all her life. Change can be good. Change can be bad. But surely any change is better than... fine?
---
Midwinter Break by Bernard MacLaverty
Midwinter Break is a work of extraordinary emotional precision and sympathy, about coming to terms - to an honest reckoning - with love and the loss of love, with memory and pain...this is a novel of great ambition by an artist at the height of his powers' Colm ToibinA retired couple, Gerry and Stella Gilmore, fly to Amsterdam for a midwinter break. A holiday to refresh the senses, to see the sights and to generally take stock of what remains of their lives. But amongst the wintry streets and icy canals we see their relationship fracturing beneath the surface. And when memories re-emerge of a troubled time in their native Ireland things begin to fall apart. As their midwinter break comes to an end, we understand how far apart they are - and can only watch as they struggle to save themselves.
---